Skatepark and Pumptrack Consultation
Nuneaton and Bedworth Borough Council would like your views about its proposals for a new allwheels park at Miners Welfare Park in Bedworth – combining a skatepark and a pumptrack - catering for skateboards, scooters, BMX and inline skate users.
The allwheels park will be part of the wider Bedworth Physical Activity Hub (BPAH) development providing a modern replacement for the existing Bedworth Leisure Centre as well as a range of outdoor recreation and activity facilities.
Works will begin late summer / early autumn this year and take up to two years to complete. Unfortunately the current skatepark will have to close at the start of the works on site but a significantly enhanced skate and BMX facility will be created.
The Council have appointed companies with strong reputations in skate and pumptrack design to develop the proposals with Canvas designing the skatepark area and VeloSolutions the pumptrack.
The design has to work within the available space and a lot of thought has gone into making the most of the space and creating a facility with a lot of fun and skills progression built in and that Bedworth can be proud of - but we want to listen to your thoughts about and suggestions about possible further tweaks to the design that might make it better.
Everyone of course might want more area and provision for their own favourite activity but as the Council we need to have a balance and cover wide range of interests. We will be including a beginners pumptrack loop to reduce conflicts between beginners and more skilled riders.
We hope you will be excited about the proposals even if it will mean waiting a while for them to be delivered on the ground and encourage you to spread the word about the consultation and about the facilities that will be heading Bedworth's way in the next year or two.
IMPORTANT:
It's important for us to be honest with you and say these are the designs we'd like to deliver – funds permitting. You'll know at the moment that inflation is continuously pushing up prices for food and everyday goods (the cost of living crisis) and the prices of the materials for construction works have actually been going up a lot more still than general prices in shops.
As a result the final designs for the Bedworth Physical Activity Hub project as a whole including this facility will have to be affordable within a budget that is not able to grow and could still be scaled back  / or elements be delivered at a later date if other funding is secured  - though we will of course try as much as we can to avoid that.
Bedworth Physical Activity Hub Proposals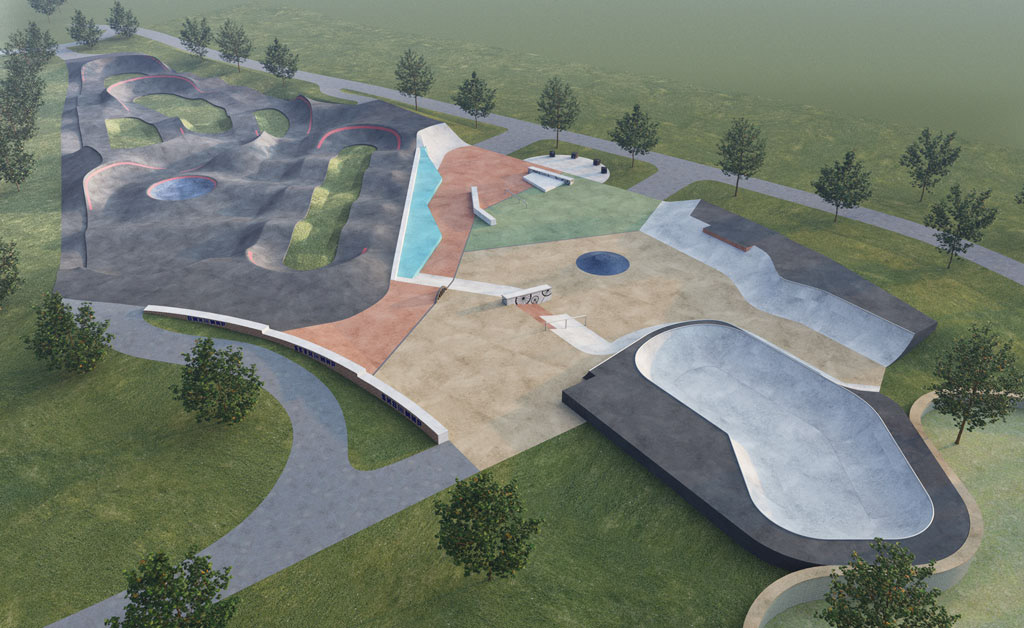 So – what do you think?
We'd love to hear from you as well if it's just to say you like what you see and support the council going ahead with the proposals  - that will help support us proceeding with providing the facilities.
In terms of the Pumptrack:
It is hard to deliver more within the available space / shape of space but we have infilled the largest loop of the track, creating the Pump Park, to add some extra interest and value.
Do you support the inclusion of the Pump Park area?
and
Do you have any other comments about the Pumptrack and do you support us making this new provision for the area?
Please send your comments via the form below.
In terms of the skatepark
We have tried to include a bowl, stairs section and a street area as well as scope for scooters and  freestyle BMX tricks so there are plenty of opportunities to use the park in different ways.
We know everyone might want a bit more of their own specialism but will need to keep a balance between the different ways to use the skatepark and we have a fixed budget so something coming in might mean something coming out but are keen to hear if there are some particular features you'd tweak or swop out within an area.
Are there things you'd suggest we tweak or change?  Do you have any other comments about the skatepark and do you support us making this new provision for the area?
Please send your comments via the form below.
What happens next?
We are having a chance for you to meet some of those involved in the design face to face on Monday 8th August 2pm - 7pm at Bedworth Leisure Centre. 
Please submit your comments to us by Sunday 14th August.
We will then review all your comments and feedback and look to see what we can address or incorporate within a tweaked design.
We'll try and feedback publicly about any changes and if you share your e-mail address we can contact you about that and keep you updated with progress on the creation of the new facilities.
We'll also let you know if we've had to make changes due to inflation affecting the available budget for the facilities.
The existing park will unavoidably close at the point work starts on site later this summer and whilst we will be trying to deliver the new facilities as early as possible it may also unavoidably take 18 months to two years for those to be completed and opened.
We appreciate that's a long time to wait and if we could have done it any other way we would have but we feel the facilities are a big upgrade and will be worth the wait.
Thanks for taking the time to read this and for making comments on the proposals.
See you @MWP,
If you'd like us to keep you up to date on allwheels@MWP then let us have your contact details below:
Your data will be collected by Nuneaton and Bedworth Borough Council for the purpose of engagement on this all-wheels park consultation. We will use the data solely to further inform the all-wheels park design  - and if you share your e-mail address with us to keep you informed occasionally on any changes to the design and on progress toward delivering the all-wheels park.  Anonymised comments may be published. Personal data will not be shared. Your data will not be given or sold to anyone else. You can access, amend or remove your data at any time by contacting Nuneaton and Bedworth Borough Council.