A skatepark company. Creating Public Spaces in the UK and beyond
Our design and build team collaborate on every project and are behind some of the most critically acclaimed skateparks in use today. Formed in 2013, CANVAS set out to provide services for our clients to realise their vision. We specialise in the consultation, design and construction of concrete skateparks and public spaces. What do we mean by public spaces?  This falls into two categories:
1. We are excited by being able to assist in turning an unused space into an area that attracts varied users via interesting, space-planed forms for use. These public spaces are not considered exclusively as a skatepark but designed to be inclusive for varied visitors and passers-by. 
2. We see skateparks as a space, specifically for skating/riding. However, we also encourage the ethos that a public skatepark is a facility within a greater area and that facility requires thought beyond the skatepark itself, considering the surrounding area, network of other facilities and convenience for passive users.
We will ensure that the facility is appropriate for the intended users and proposed plot by following a carefully considered process that is used for every CANVAS project. An appointed Designer and Project Manager will form your first point of contact and see your project through to completion.
Quality is assured through following our management process. Each element of the project is scrutinised, such as: Conformance; Safety; ecological suitability; sustainability; meeting expectations and satisfying the varied interested parties. Client and end-user satisfaction are key and forms part of our regular review.
CANVAS has detailed experience with skatepark projects at varied stages of development. From requiring funding and planning prior to design development, through to funded large scale projects requiring consultation, design and construction.  With a dedicated design and construction team, we have been involved in varied skatepark projects and clients: Private; council and international bodies.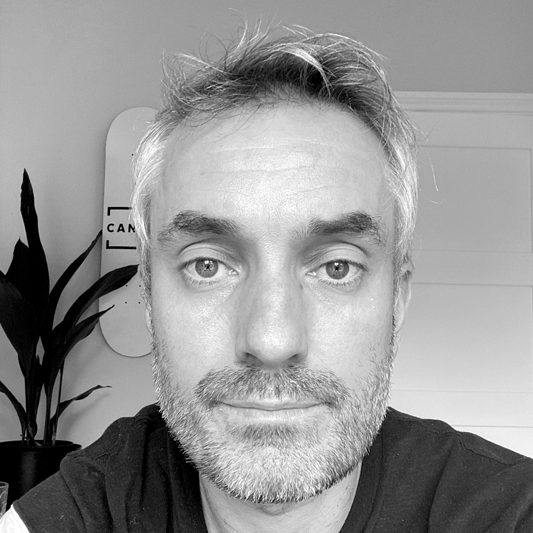 Design Director 
John Flood
Liaising with CANVAS design team;
Liaising with Project Manager;
Quality Assurance Manager
Professional Qualifications and tr

aining
BSc (hons) Product Design;
BSI trained to implement ISO 9001:2015 Quality Management System
Technical expertise and project experience
Lead Professional Skatepark Designer since 2003;
2d & 3d CAD modelling to relevant British Standards;
Successful implementation of ISO 9001:2015 Quality Management System, accredited and annually assessed by BSI (British Standards Institute);
Many years' skateboarding experience


Funding & Aftersales Coordinator  
James Threlfall MBE
Role
Funding assistance and direction;
Public awareness and engagement;
Leading skateboard coaching events and opening days;
Public relations
Professional Qualifications and training
Qualified skateboard coach;
Sponsored by: Element, Minirig, Skate Warehouse;
Many years' experience as as sponsored skateboarder and winner of international competitions;
Technical expertise and project experience
Received an MBE for services to young people in the 2019 New Year Honours;
Competitive skateboarding: contest winner within international competitions;
Television presenting: SkyTv; Extreme Sports channel;
Coaching beginners within a new skatepark environment;
BBC Radio presenter;
Design Engineer  
Darcy Wright
Developing Stage 4 designs for construction;
Liaising with Drainage and Civil Engineers;
On-site setting out;
Supporting Design Director


Professional Qualifications and training
BA Hons Product Design;
Photography;
2D & 3D CAD modelling to relevant British Standards;
Drainage and Civils
Technical expertise and project experience
Skateboarding since 2006;
Professional Skatepark Design Engineer since 2014
Construction Director  
Todd Smith
Role
Project Manager;
First point of contact for client;
Liaising with Design Director;
Quality Assurance
Professional Qualifications and training
CPCS - Concrete pumping operations;
CPCS - Earth moving equipment;
NPORS - Banksperson and lifting operations;
SMSTS - H&S management
Technical expertise and project experience
Professional groundworks and concrete works since 2000;
Specialist sprayed concrete contractor since 2006;
Specialist skatepark works with over 70 concrete skateparks successfully completed to date;
MD of Midas Construction UK Limited since 2005;
Site Manager  
Marcel Modzelewski
Appointed Site Manager for your project;
First Aider on site;
Liaising with Projects Director;
Concrete finishing and groundworks


Professional Qualifications and training
First Aider;
CPCS - Concrete pump operator;
Plant Operator
​​​​​​​
Technical expertise and project experience
Professional groundworks and concrete works since 1995;
Specialist sprayed concrete works since 2000;
Specialist skatepark works since 2005;
Specialist concrete finishing since 2005;